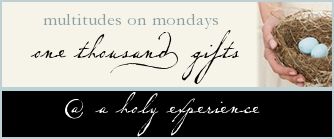 139. Celebrating the birthday of our sweet daughter and seeing her enjoy her day and her friends
140. Celebrating my Mom's birthday today with her and some of her church friends
141. Praise music to push through being too tired to get rolling today!
142. Good friends and good conversation
143. Help for allergies!
144. Quiet times for prayer and reading
145. A clean house:) For a minute:)
146. Being asked by my 92 year old grandmother to drop her off at a friends house for a luncheon ~ too cute!
147. Sweet tea with raspberry over ice
148. Serving
149. People who lift you up and sharpen your faith
150. Clean sheets and warm towels