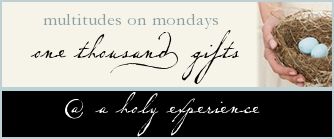 I wasn't able to post last night, as the internet at the condo stopped working. But want to post anyhow!
84. Safe travels to our vacation destination after two long days on the road!
85. Eating lunch along the way yesterday, at a table outside . . . and it was 80 degrees!
86. Sunshine, sand, shells, surf
87. A beautiful bike ride today
88. Internet :)
89. A delicious iced latte this morning
90. Cheerful kids
91. All of the gorgeous flowers that God made!
92. Cinnamon Toast for breakfast :) What a treat!!!!
93. Prayer Mission . . . . praying for Prodigals
94. Celebrating Nate's 19th Birthday before we left home. He's a true blessing!
95. Seeing a Stingray in the water this morning